The Future of Physical Security Communication with Push-to-Talk 2.0
Learn how Orion's Push-to-Talk platform modernizes communications for physical security organizations.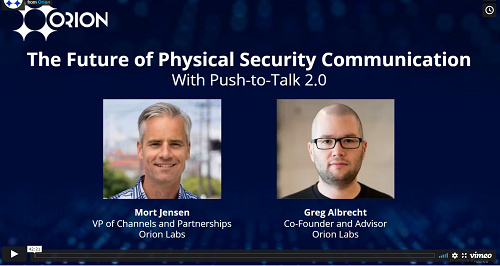 Security departments have long struggled to bring their real-time voice communications into the present, resorting to communicating with radios, unsecure applications, multiple devices, and Wi-Fi-only solutions.
Today, Security operations must adopt a leading-edge PTT 2.0 solution that utilizes AI Voice Bots to improve situational awareness, emergency response, and safety while providing effective communication, coordination, and actions among team members and the Operations Center.
Watch this webinar to discover how next-generation voice technology can:
Amplify situational awareness across Security teams and organizations
Utilize AI Voice Bots for emergency response and team member safety
Eliminate breaks in voice communication as teams move across campuses, cities, and larger geographical areas
Track team members and executives with geolocation
It's all possible with Orion's Push-to-Talk 2.0 collaboration solution that radically modernizes communications for some of the world's largest Security organizations.