Push-to-Talk 2.0 Fact Sheet
The Next Generation of Frontline Communication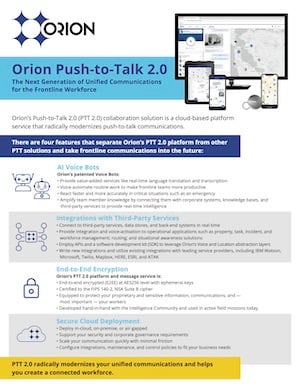 Orion's PTT 2.0 solution is a cloud-based platform service that radically modernizes Push-to-Talk.

Download the free Fact Sheet to discover how Orion's PTT 2.0 platform utilizes:
A powerful cloud collaboration platform
Open APIs and software development kit
Voice bots and workflows
End-to-end encryption and security
Advanced functionality with multimedia, unmatched coverage, and operational control
And so much more
Learn more about collaboration software for the deskless workforce. Get the Fact Sheet today!