E-book: Push-to-Talk 2.0 with Voice AI Workflows
The Next Generation of Unified Communications for the Frontline Workforce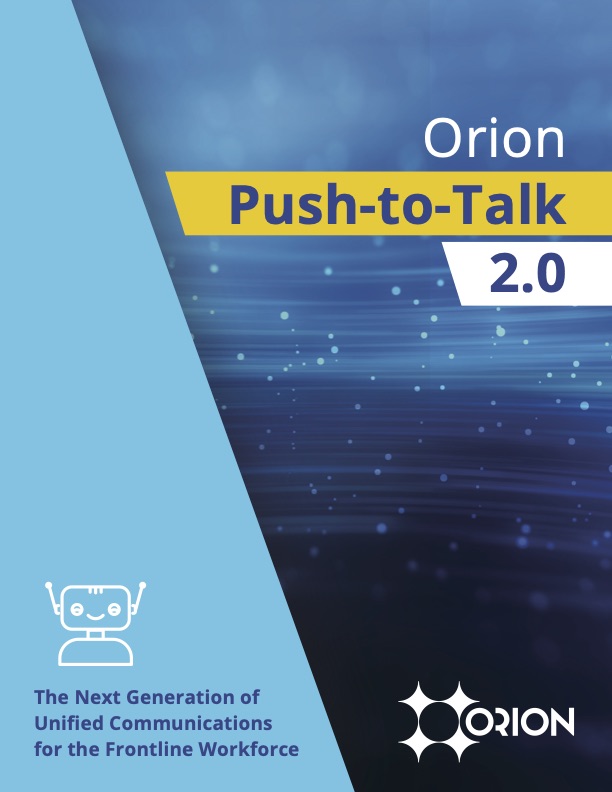 For decades, frontline teams have tried to communicate over radios, unsecure PTT applications, multiple devices, and Wi-Fi-only solutions. Now, there's a Unified Communications solution that creates a connected frontline workforce and dramatically improves productivity, safety, and customer engagement: Orion's PTT 2.0 Collaboration Platform!
Download Orion's 40-page PTT 2.0 e-book to discover:
How Unified Communications via real-time voice impacts industries such as Transportation, Retail, Hospitality, Security, and Logistics (Page 7)
The ROI of operating on Orion's PTT 2.0 platform (Page 33)
Detailed descriptions of Orion's AI Voice Bots, third-party integrations, end-to-end encryption (E2EE), and secure cloud deployment (Page 14)
How to create a connected workforce with unified communications (Page 12)
The Push-to-Talk Landscape (Page 9)
And so much more
Learn more about the next generation of Unified Communications for the frontline workforce. Get Orion's Push-to-Talk 2.0 E-book today!