Massachusetts Bay Transportation Authority Case Study
Learn How Greater Boston's Public Transit Innovated Operations With Orion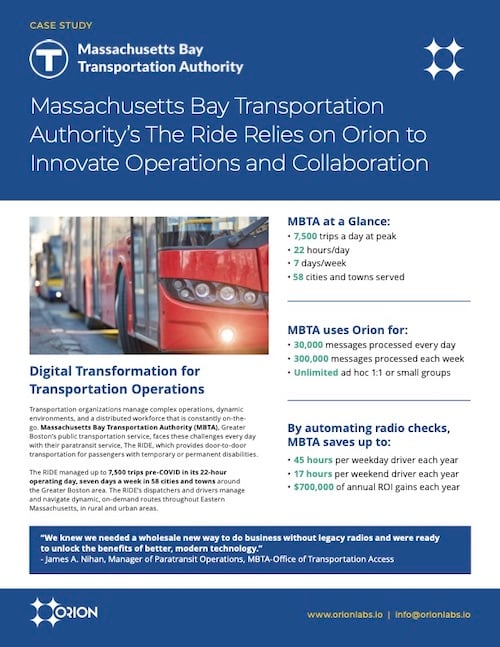 Massachusetts Bay Transportation Authority's (MBTA) paratransit service The RIDE required new, intelligent technology to help manage complex, dynamic operations and distributed on-the-go drivers. MBTA selected Orion to upgrade and modernize the fleet's communications system from legacy radios to a modern, cloud-based intelligent platform.

Download the case study to learn how Orion helped MBTA:
Manage up to 7,500 trips (pre-COVID) in its 22-hour operating day, seven days a week, in 58 cities and towns around the Greater Boston area
Save an estimated $700,000 in ROI each year by automating radio checks with AI Voice Bots
Send over 30,000 messages every day with All-Call, ad hoc 1:1, or limited group environments
Integrate with apps like Adept and Google Maps
Learn more about collaboration software for the deskless workforce. Get the Case Study today!