The Frontline Collaboration Solution Buyer's Guide
The History, Landscape, Fundamentals, and Essentials of Collaboration Software for the Deskless Workforce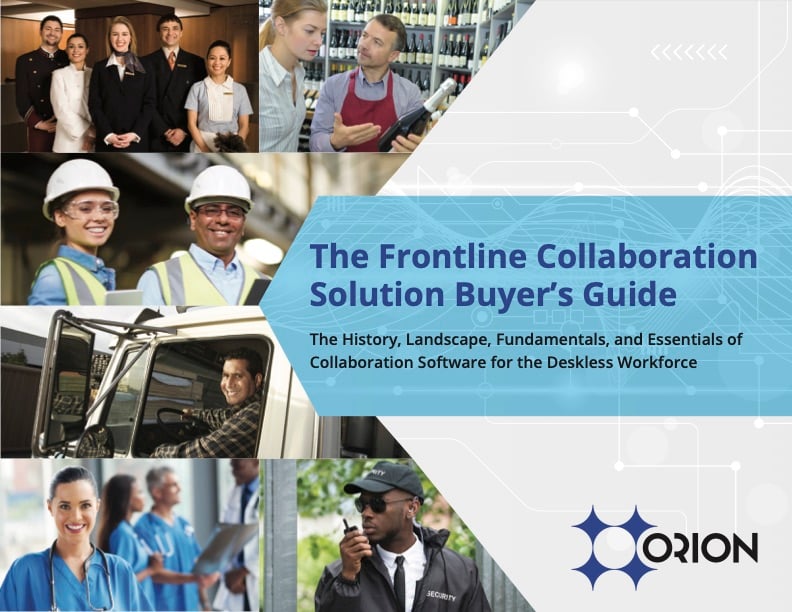 If you're actively considering a new communication solution for your deskless workforce and frontline operations teams, this is the Buyer's Guide for you.
Orion's latest Buyer's Guide is packed with detailed comparisons of radios, push-to-talk (PTT) applications, and intelligent collaboration platforms. You'll learn what questions to ask collaboration vendors, how to think about the frontline collaboration landscape, and so much more.
Download the Orion Buyer's Guide to discover:
An in-depth comparison chart for radios, PTT apps, and a collaboration platform (Page 12)
Over 30 RFP and Requirements Definition process questions for collaboration vendors (Page 21)
A landscape of frontline communication solutions (Page 10)
The digital transformation journey deskless workforces must undergo when they upgrade to a voice-first intelligent collaboration platform (Page 6)
And so much more
Learn more about the history, landscape, fundamentals, and essentials of collaboration software for the deskless workforce. Get The Frontline Collaboration Solution Buyer's Guide today!