Construction Transport Fact Sheet
Orion and GPSLockbox Quick Start Bundle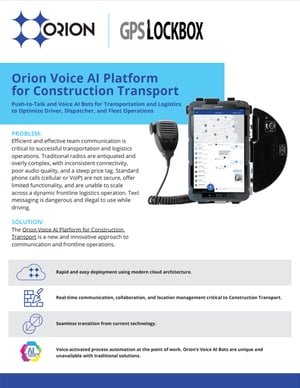 Orion's platform for Construction Transport has been optimally integrated with the purpose-built hardware from GPSLockbox.
This combination creates a no-risk solution that includes:
Real-time, push-to-talk communication

Operations console for dispatch
Powerful Voice AI capabilities for process automation
All necessary hardware and services
Learn more about the Orion GPSLockbox Quick Start Bundle. Get the Fact Sheet today!