What if there were a secure walkie-talkie app that could do more than push-to-talk across any distance?
Now there is: Orion App Talk, a secure walkie-talkie app.
What is Orion App Talk?
App Talk is a new way to talk with your team on Orion using the Orion app.
With App Talk you can talk to teammates using the Talk Button in the Orion app, whether they're using Onyx smart walkie-talkies or the app.
Now, you can choose the way that makes the most sense for each person on your team.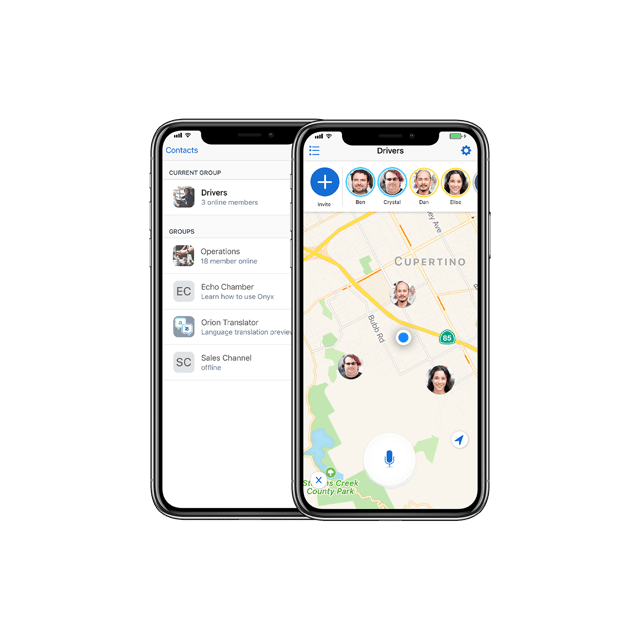 Who is App Talk for?
Orion App Talk is great for staff members who are
Stationed at a desk or

Working on a tablet or

on their mobile phones
Using App Talk makes it easy to communicate near-instantly with Onyx-using teammates who might be working at other locations, doing hands-on work, driving, or doing other work that requires complete focus.
In addition to push-to-talk over any distance and seeing the real-time location of teammates, App Talk helps you and your team use voice drive productivity with features like
Voice search of internal and external systems and databases
Voice commands to trigger business processes
Things you can do with App Talk that you can't do with traditional walkie-talkie solutions:
Instantly translate one language to another with Orion Translator
Use voice to control smart home devices, time sheet programs and other voice assistants via IFTTT
How do I get App Talk?
If you are already an Orion customer and have paired an Onyx with your iPhone, iPod touch or iPad, or you have an Orion Pro account, you will see a "Join & Talk without Onyx" button in the Orion app:
App Talk is available today for iOS, and will be rolling out to Android soon.
Get a free trial of Orion Pro