Analyst Report: 451 Research Business Impact Brief
Achieving Unified Communications and Digitizing Frontline Operations Through Real-Time Voice Collaboration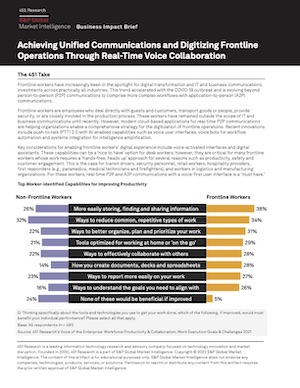 Frontline workers have increasingly been in the spotlight for digital transformation and IT and business communications investments across practically all industries.
This trend accelerated with the COVID-19 outbreak and is evolving beyond person-to-person (P2P) communications to comprise more complex workflows with application-to-person (A2P) communications.
Download 451 Research's free Business Impact Brief to learn:
What frontline workers say are their top needs for productivity
Why push-to-talk (PTT) 2.0 with AI-enabled capabilities are key to the digital experience
The competitive advantage organizations gain when they help workers find and share information and automate repetitive tasks
And so much more
Learn more about how PTT 2.0 enables unified communications for the frontline workforce. Download the report today!