451 Research: MBTA Digitizes Transportation Operations with Orion
Learn how Massachusetts Bay Transportation Authority uses the Orion Collaboration Platform for Transportation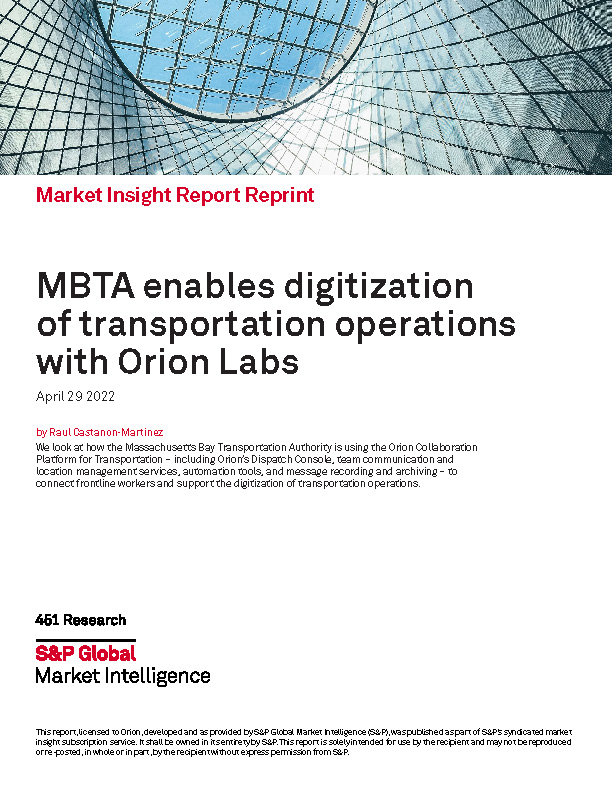 By eliminating manual radio checks, the MBTA estimates savings of up to 10 minutes per driver at the start of each shift. This adds up to nearly 45 hours per year saved for each weekday driver and 17 hours saved for weekend drivers – accumulating an estimated total cost savings of $700,000 per annum.
This is how the Orion Collaboration Platform for Transportation enables the digitization of frontline operations. – including the standardization and digitization of forms, checklists and procedures – and the opportunities for the MBTA to tackle productivity and safety improvements, reduce costs, and address compliance requirements.
This 451 Research report "MBTA enables digitization of transportation operations with Orion" explains how Orion:
Digitizes frontline operations for transportation, including forms, checklists, and procedures
Fulfills real-time communications requirements for transportation teams

Improves productivity and safety, reduces costs, and addresses compliance requirements

How Orion

supports digital transformation of public transportation

And so much more
Learn how a Push-to-Talk 2.0 platform addresses critical requirements for the frontline workforce. Download the analyst report today!